TIPS FOR ACCEPTABLE
FAMILY HARVEST OFFERING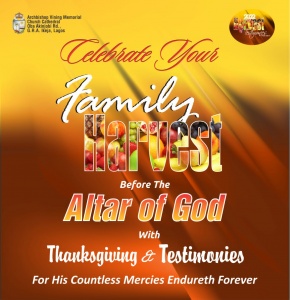 A) WHAT IS FAMILY HARVEST?
Simply put it is the gathering together of a family before God with thanksgiving for His mercies and kindness to members of the family.
B)WHY MUST IT BE FAMILY HARVEST
a)God specifically says in Exodus 23:16-"And the feast of Harvest, the first fruits of your labors which you have sown in the field and the feast of Ingathering at the end of the year, when you have gathered in the fruit of your labour's from the field.
b) Harvest is a family affair. The Bible says :
"Now the man Elkanah and all his house went up to offer to the Lord the yearly sacrifice and his vow." 1Sam.1: 21. It is the only harvest activity that involves the entire family. It is divine family insurance.
C) WHEN IS THE FAMILY HARVEST
Anytime during Harvest. Some have attached it to specific memorable days in their family. The most important thing is to come before God to worship and thank Him and to acknowledge that He is the God of your family.
It is an annual thanksgiving.
D)HOW TO GIVE ACCEPTABLE OFFERING
a) It must be accorded priority. It should be done as soon as possible. When Noah and family were delivered from the flood, the first thing that he did was to give a sacrifice unto God. It was when God smelled the soothing aroma that the pronounced the blessing that " while the earth remains, seed time and Harvest….. …..shall not cease." Gen 8:22.
b) The offering must be the Best, it must be worthy.
It must cost us something. The Lord says " And when you offer the blind (animal)as a sacrifice, is it not evil? And when you offer the lame and sick, Is it not evil? Offer it then to your governor! Would he be pleased with you? Would he accept you favourably? Says the Lord of Hosts. So let us offer that which is our best.
c) Give as you purpose in your heart, not grudgingly or of necessity; for God loves a cheerful giver.
Therefore, bring your family before God with thanksgiving. Give unto the Lord :
-Generously
– Willingly
– Cheerfully with dance steps.
May the Lord smell a sooth aroma and pronounce His blessings on us in Jesus name