YOUTH HARVEST!!!
August 12, 2022
Bulletin for Sunday 21st August, 2022
August 19, 2022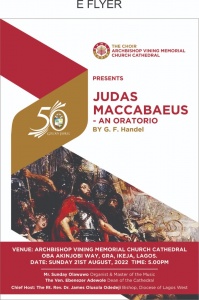 This is to Specially INVITE YOU to a Special Concert to mark the Golden Jubilee of my Choir – Archbishop Vining Memorial Church Cathedral Choir, GRA IKEJA.
Join us this Sunday, 21st zAugust, 2022 at 5pm as The Choir Performs JUDAS MACCABEUS (An Oratorio composed by G.F. Handel)
WE NEVER BOW TO SCULPTURED STONE , WE WORSHIP GOD AND GOD ALONE.
See you then. ❤️