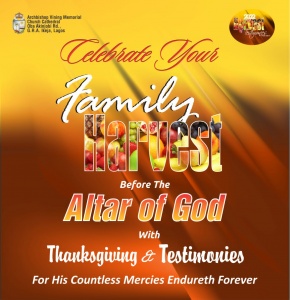 THIS IS YOUR SEASON OF THANKSGIVING!
YES! It is your turn to give sound Thanksgiving to the Lord for your Family:
WE CAN NEVER THANK HIM ENOUGH FOR ALL HIS GOODNESS AND MERCIES TOWARD US.
Let us Thank HIM for the gift of life(many are dying)
Thank HIM for your marriages (pleasant and otherwise God is at its centre)
Thank HIM for fruitfulness (fruit of the womb is by mercy).
Thank Him for successes (without God we can achieve nothing)
COME WITH OUR FAMILIES WITH THANKSGIVING AND BOW BEFORE HIM. COMMIT OUR FAMILIES TO HIM. You will not bow before your enemies.
May the Lord bless and keep us all