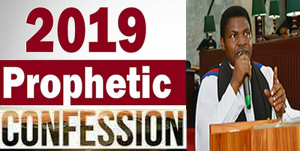 THIS YEAR 2019 I STAND IN THE BLOOD OF JESUS CHRIST AND LAY CLAIM TO HIS RIGHTEOUSNESS WITH THANKSGIVING FOR WHAT THE LORD HE HAS DONE, FOR WHAT HE IS DOING AND FOR WHAT I AM TRUSTING HIM TO DO FOR ME, BY ME, THROUGH ME, IN ME AND WITH ME IN 2019.  I DECLARE THAT THE LORD MY GOD IS MY REFUGE AND MY STRENGTH, THEREFORE SHALL I ENJOY DIVINE PROTECTION FROM DANGER AND TROUBLE EVERY DAY OF THIS YEAR AND I SHALL BE STRONG AND DO EXPLOIT TO THE GLORY OF GOD'S NAME.
I SHALL ENJOY MY DAILY ALLOCATION OF DIVINE BENEFITS BY GOD'S GRACE AND MERCY AND OVERCOME EVERY TROUBLE, TRIBULATION, TEMPTATION AND TRIAL THAT EACH DAY MAY BRING MY WAY.
I RECEIVE THE GRACE FROM ABOVE TO RESIST AND OVERCOME THE DEVIL, THEREFORE CONCERNING ME THERE SHALL BE NO KILLING, NO STEALING AND NO DESTRUCTION.  I REFUSE TO BE A VICTIM OF SATANIC AGENDA AND THE SPIRIT OF WASTER SHALL NOT PREVAIL UPON ME.
I SET THE LORD BEFORE ME, THE LORD MY GOD SHALL ALWAYS BE AT MY RIGHT HAND THEREFORE I SHALL NOT BE MOVED.  THE VOICE OF THE MOST HIGH GOD SHALL DIRECT ME.  MY DESTINY SHALL ATTRACT DIVINE ATTENTION AND GOD WILL GIVE DIRECTION TO MY ENDEAVOURS THROUGHOUT THE YEAR 2019.
THIS YEAR AND BEYOND, AS THE LORD LIVETH AND AS HIS SOUL LIVETH, I WILL NOT TOIL IN VAIN, I WILL NOT EXPERIENCE ABANDON PROJECTS.  I RECEIVE GRACE TO FINISH ALL MY GOOD AND GODLY ENTERPRISE AND ENDEAVOUR.  THE LORD ON DAILY BASIS SHALL ANOINT MY HEAD AFRESH AND I SHALL NOT BE DISGRACED NOR FALL FROM GRACE TO GRASS.
THE LORD SHALL LIFT ME BEYOND MY EXPECTATIONS AND BEAUTIFY MY LIFE WITH HIS GLORY.  HE WILL SCATTER EVERY GANG UP OF THE WICKED AGAINST MY RISING.  I SHALL WALK THROUGH THE DAYS AND NIGHTS OF 2019 UNHURT AND MY LIFE SHALL BE SECURE BY THE POWER IN THE BLOOD OF JESUS CHRIST.
BECAUSE THE LORD IS MY REFUGE, I AM EXEMPTED FROM CALAMITIES, DISASTERS, SORROW, LAMENTATIONS, FAILURES AND ALL FORMS OF EVIL.  BECAUSE THE LORD IS MY STRENGTH, I AM MORE THAN A CONQUEROR.  I SHALL NOT BE WOUNDED ON THE BATTLE FIELD.  I SHALL NOT WALK NAKED AND I SHALL BE BOLD AND STRONG ENOUGH TO POSSESS MY POSSESSION.  I AM A GIANT IN THE LORD, I AM AN EAGLE, I SHALL FLOURISH LIKE A PALM TREE, I RECEIVE WISDOM FROM ABOVE AND THE GRACE OF GENTILITY LIKE A DOVE SHALL BE MIGHTY UPON ME, I AM THE SALT OF THE EARTH, MY LIGHT SHALL SHINE FOR ALL TO SEE.  I RECEIVE GRACE AND ANOINTING TO WALK THROUGH THE 365 DAYS OF 2019 WITHOUT FAINTING AND AS I CONTINUE MY CHRISTIAN RACE I SHALL NOT GROW WEARY.  WHATEVER HAPPENS ON EARTH IN 2019 BY GOD'S GRACE AND MERCY I SHALL NOT LIVE IN FEAR, WHATEVER THE ROARING OF THE SEA SHALL REMAIN COOL AND CALM AND COLLECTED.  GLADNESS AND JOY SHALL BE MY PORTION EVERYDAY OF THIS YEAR.  THE LORD OF HOST SHALL TAKE OVER MY BATTLES AND MAKE ME A WINNER ON ALL SIDES AND GOD'S NAME SHALL BE EXALTED IN MY LIFE.
MY STRENGTH IS RENEWED PER SECONDS UNTO GREATER EXPLOITS, LATER GLORIES AND A MORE ENVIABLE HEIGHTS IN JESUS NAME.  AMEN.